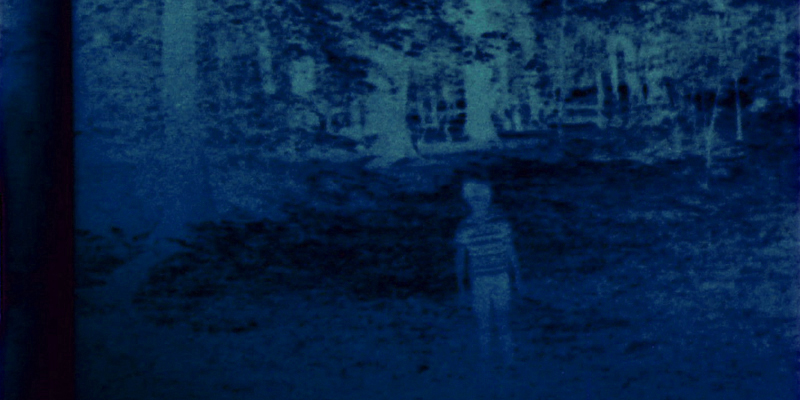 ENGLISH
Frédéric Labonde lives and works in Paris.
After his studies of science, he integrated a school of broadcasting. In parallel with his work as a film editor for many years, he attended course of fine arts in Ecole Nationale des Beaux-Arts de Paris. Since 2004, he has been working on video clips as well as still pictures. By himself or in collaboration with different artists and collectives, he has been directing pieces wich have been shown in many galleries and international festivals.
His first movie, called Sous le ciel de ta peau has been selected in the International Documentary Festival of La Rochelle in 2009. It's an audiovisual essay about scars and emotional hurts.
Humus, his second documentary essay, speaks of the theme of childlessness. It won the BEST FEATURE FILM AWARD of the Festival flEXiff at Sydney and the BEST EDITING AWARD of the Tirana International Film Festival. Frédéric Labonde deepens this research by working on plastic arts, Autour d'Humus, that mixing video clips, photographs and digital art.
At the same time, he pursues his thought on the damaged body and the picture that provides, with Click ma douleur. This piece of digital art initiated with the artist Albertine Meunier, is a multimedia self-portrait, designed with medical imaging. It started in 1990 and will go on until Frédéric Labonde dies.
Currently, Frédéric Labonde is writing Mort-Bois a movie about the famous french writer Jean Genet childhood.
2017
Glitch Film Festival – Glasgow / Écosse
Premio Maguey – Guadalajara / Mexique
MIX NYC – New York

2016
Festival of video art OVNI – Nice
Transition Film Festival – Vienna / Austria
Festival flEXiff – Sydney / Australia
Forum des Images – Cycle "The Skin"
Festival Transposition – Annecy
Bangalore Queer Film Festival / India
Zinegoak – Bilbao / Spain
2015
Festival Tous Courts – Aix-en-Provence
Festival Chéries-Chéris – Paris
LesGaiCineMad Film Festival – Madrid / Espagne
Lesbisch Schwulen Filmtage Hamburg / Allemagne
Porn Film Festival Berlin / Allemagne
Shortcutz Lisboa / Portugal
Queer Porto / Portugal
Leeds Queer Film Festival / England
Festival Images Contre Nature – Marseille
Festival Mix Milano / Italy
Rio Gay Film Festival / Brazil
Durban Gay & Lesbian Film Festival / South Africa
Tel Aviv International LGBT Film Festival / Israel
Sicilia Queer FilmFest – Palerme / Italy
Rencontres cinématographiques In & Out – Nice
Festival Écrans Mixtes – Lyon
2014
Stuttgarter Filmwinter Festival – Stuttgart / Germany
Group exhibition at LA FABRICA 114 – Paris
Internacional Muestra Intermediaciones – Medellin / Colombia
2013
Festival flEXiff – Sydney / Australia – BEST FEATURE FILM AWARD
Tirana International Film Festival / Albanie – BEST EDITING AWARD – FEATURE CATEGORY
Cinema Vérité – Iran International Documentary Film Festival – Tehran / Iran
Festival du Court Métrage de Nice – Atelier Travaux en Cour(t)s
Festival Aux Écrans du Réel – Le Mans
Group exhibition FANTÔMES at LA FABRICA 114 – Paris
Analogica Festival / Italy
CologneOFF – Cologne International Videoart Festival / Germany
Wordless International Short Film Festival – Sydney / Australia
Festival Images Contre Nature – Marseille
2012
DVD edition by L'Harmattan
Screening in La Santé prison – Paris
2009
Festival International du Documentaire de Création – La Rochelle
Festival international Ciné-Vidéo-Psy – Lorquin
2007
Maison Européenne de la Photographie – Paris
Galerie Wanted – Paris
Les Rencontres de la Villette – Paris
Transphotographiques – Lille
Festival de la Photographie Européenne – Reggio Emilia / Italy
Webcasting www.lemonde.fr
2006
Les Rencontres d'Arles
Galerie du Château d'Eau – Toulouse
Espace Confluences – Paris
Festival du Vent – Calvi
Galerie Fabryka Trzciny – Varsovie / Poland
Festival Multimédia Enzimi – Rome / Italy
Quinzaine Photographique Nantaise
Transfotografia – Gdansk – Sopot – Gdynia / Poland